By Shyla Parsons
Money. The one item that can bring so much joy and fear at the same time.
What if I told you that you could save money by being eco-friendly as well. Other than some of your basic ways at home: letting the sun into your house, changing your diet or even walking more – you can save money in the workplace too.
Back in 2016, the Morgantown City Council declared it as the "Year to Go Green."
This was a community-wide plan to clean up the city of
Morgantown. In response to that, Friends of Decker's Creek and the Morgantown Green Team created a business coalition. Their mission is to get local business of Morgantown involved to go green. They are helping teach these businesses that they can save money by going green.
Again in 2018, they revised their plan to better the community and planet even more! This created the Morgantown Municipal Green Team Strategic Plan.
Now, let's go back to the the basics, because small steps lead to success – right?
Cutting back on the use on energy, not only saves you money on your bills, it is also better for the environment. Another great factor includes jobs. By using more reusable energy sources creates the need for more jobs. Back in 2014, the green energy industry employed 7.7 million people.
A study from 2009, conducted by Union of Concerned Scientists, found that by reducing the demand of fossil fuels will lead to lower and more stable natural gases and coal prices for electricity generations. This saying, that by 2025, the typical household would save more than $67 in annual gas and electricity costs.
According to Earth Friends: some simple ways to conserve energy at work or home, which results in saving money, include           (see website for full list)
turning life off when leaving a room
turn of computers at the end of the day, as well as the actual power strip
adjust temperature at the end of the day
By going green, you can save money. Leaving your wallet happy and the earth happy.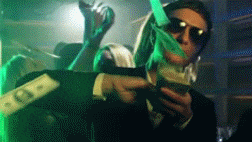 Money does buy happiness!